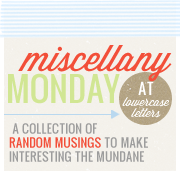 one
. My husband and I made the second biggest purchase of our lives...we bought a car! (we bought our house in January) Mine was about 13 years old and we were tired of putting money into it. It wasn't by any means a junker or anything - just an old car. So...we sold it and then bought the car of my dreams...a Jeep Grand Cherokee. I have been swooning over them since the new body style came out (the not so boxy one). The one we got had EVERYTHING we wanted and still came it only $11 over the monthly price we had budgeted. I couldn't be happier especially because we plan to keep this through a couple kids and pay it off way before the amount of time we have.
two
. I'm making a blanket. For my nephew. He requested it. I've made one blanket as a test run and I think after I make this one for nephew #3 I will have to make one of the other 4 and my niece.
three
. Speaking of my nephews and niece....March 13th is when #7 is due! Lucky number 7! I am beyond excited! I can't wait! I kinda hope it's a girl but would be okay with either (with 5 nephews already, what's another?)
four
. After all my excitement about being able to finally quit my job, I am now second guessing it. Last week our best writer broke the news that her husband was getting a job with the FBI and they would be moving to VA and she was offered a full-time job...So my boss was very disappointed and it doesn't feel right to break the news so soon or at all. Why do I have to be such a nice girl. Even though I want to quit - so bad - I feel guilty. Why? Not really sure, but I do. And I feel like when the time would be more appropriate, I might as well just stay anyways. There's also not a lot of work to be done - because we've finished everything with our current clients - so if she doesn't get any new clients I can't see me being there much longer anyways (I can hope right?)
five
. I start my last semester of my Masters! I can't believe how fast it has gone by! This one is on Math and Science and then in January I will be student teaching! I'm kinda nervous to Student teach but I think it's because I haven't been in the classroom much and just feel out of shape in that area.
Well, that's it for today! Hope everyone is doing well and has had a great start to the week!